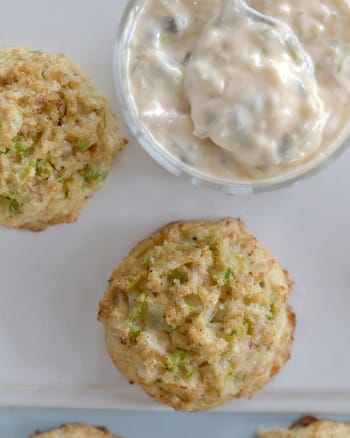 Antarctic Krill Cakes and Caper Tartar Sauce
Category: Appetizer
Cuisine: North American
Diet: Low carb, Keto-friendly, Dairy-free
Servings: 5, 4oz. Cakes / 1.5 Cups Caper Tartar Sauce
Preparation time: 15 minutes
Cooking time: 20 minutes
Calories: Krill cakes 76 cal per serving / Caper Tartar Sauce 99 cal per serving
Ingredients
• 1 cup Krill
• 1/4 cup Green Bell Pepper, diced
• 1/4 cup Yellow Onions, diced
• 1/2 cup Mayonnaise
• 1 tablespoon Breadcrumbs
• 1/2 teaspoon Salt
• 1/2 teaspoon Black Pepper
• 1 Egg
Caper Tartar Sauce
• 1 cup Mayonnaise
• 1 teaspoon chopped fresh Dill
• 3 tablespoons Dill Pickle Relish
• 2 tablespoons Capers, chopped
• 1 tablespoon Shallots, minced
• 1 teaspoon Salt
• 1 teaspoon Black Pepper
• 1 teaspoon Hot Sauce
Directions
Krill Cake:
1. Fold together bell pepper, onions, krill, mayo, egg, and breadcrumbs.
2. Season with salt and pepper.
3. Scoop krill mixture and place onto greased and lined baking sheet. Use a standard sized (4oz) ice cream scoop.
4. Preheat oven to 350 degrees F for 15 minutes and bake krill cakes for 20 minutes, until done.
Caper Tartar Sauce:
5. To make caper tartar sauce, in a small bowl combine mayonnaise with capers, shallots and pickle relish.
6. Season with salt, pepper, dill, and hot sauce.
7. Stir gently to combine and refrigerate.
---