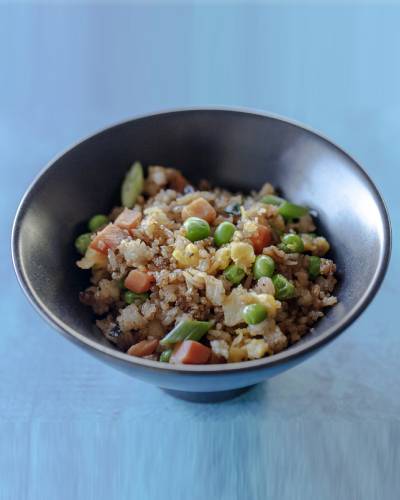 Fried Rice with Krill
Category: Main dish
Cuisine: Asian, Chinese
Diet: Dairy-free,
Servings: 2
Preparation time: 10 minutes
Cooking time: 10 minutes
Calories: 526 cal per serving
Ingredients
• 1/2 lb of krill
• 1/4 teaspoon of kosher salt
• freshly ground black pepper
• 1/4 teaspoon of corn-starch
• 1 ½ tablespoons of vegetable oil
• 2 eggs beaten
• 1 stalks of green onion
• 2 cups of cooked rice
• 1/4 cup of frozen peas and carrots defrosted
• 1/2 tablespoon of soy sauce
• 1/2 teaspoon of dark toasted sesame oil
Directions
1. Toss krill, salt, pepper, and corn-starch in a medium bowl and set aside for ten minutes.
2. Heat pan on high and add one tablespoon of oil to coat the pan. Sear the krill, spread it evenly and fry on one side for 30 seconds then flip and fry for another 30 seconds. Remove krill from pan and place in a bowl.
3. Cook eggs until they are slightly runny, then add them to the bowl with cooked krill.
4. Sauté the green onions over high heat, add the rest of the oil and stir in the rice. Cook for about 1 to 2 minutes until the rice sizzles. Spread and cook for 1 more minute.
5. Add the soy sauce, carrots, peas, krill, eggs, and sesame oil to the rice. Stir until well mixed and serve.
Additional tips
Additional soy sauce can be added to taste.
---