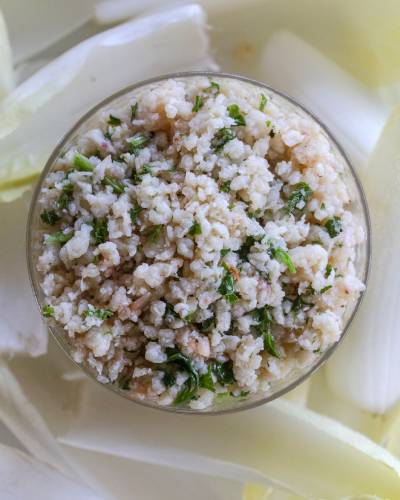 Garlic Butter Krill
Category: Appetizer
Cuisine: Western
Diet: Keto-friendly, Gluten-free
Servings: 2
Preparation time: 5 minutes
Cooking time: 15 minutes
Calories: 747 cal per serving
Ingredients
• 4 tablespoons (1 stick) of unsalted butter
• 1/2 lb of krill meat
• 3 cloves of minced garlic
• 2 tablespoons of chicken stock
• Juice of ½ a lemon
• 1 tablespoon of freshly chopped parsley
• Freshly ground black pepper
• Salt, to taste
Directions
1. Start by melting 1 tablespoon of butter in a skillet on medium-high heat then add the krill, salt, and pepper to taste. Cook while stirring occasionally until pink, about 2-3 minutes. Set aside for later.
2. Add garlic to the skillet and cook for one minute while stirring frequently.
3. Add the chicken stock and lemon juice. Bring the mixture to a boil then turn down the heat and simmer until it has been reduced by half (it takes about 1-2 minutes).
4. Stir in the rest of the butter, 1 tablespoon at a time until completely melted.
5. Finally, stir in the krill and toss to combine. Garnish the dish with the fresh parsley to taste.
Additional tips
• You can also use some fresh chopped chives to garnish the dish.
• If you are using organic lemon to prepare this dish, remember to grate it first, so you can store up lemon zest for other recipes like salads, desserts, or soups. Citrus fruit zest is packed with nutrients, and it gives an additional boost of flavour to almost any dish.
---