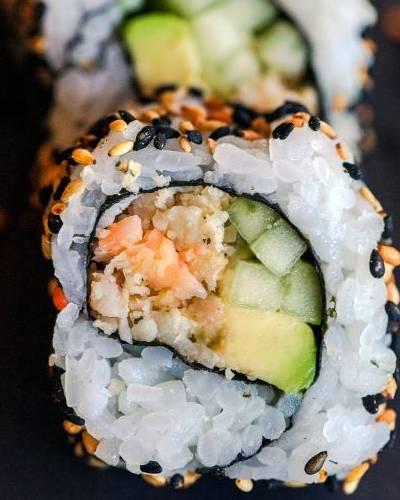 California Rolls with Krill, Avocado and Cucumber
Category: Main dish
Cuisine: Japanese
Diet: Dairy-free
Servings: 32 rolls
Preparation time: 1 hour
Cooking time: 25 minutes
Calories: 47 cal per roll
Instructions
• 1 cup sushi rice, rinsed and drained
• 1 cup water
• 2 tablespoons rice vinegar
• 1 tablespoon sugar
• 1/4 teaspoon salt
• 1 tablespoon sesame seeds, toasted
• 1 tablespoons black sesame seeds
• Bamboo sushi mat
• 4 Nori sheets
• 1/2 small cucumber, seeded and julienned
• 1 1/2 oz. krill – quickly poached in salted boiling water and then shocked in an ice bath
• 1/2 medium ripe avocado, peeled and julienned
• Soy sauce, prepared wasabi, and pickled ginger slices, optional
Directions
1. In a large saucepan, combine rice and water and let it stand for 30 minutes.
2. Place the saucepan with rice over high heat and bring to a boil. Reduce the heat to low, cover and simmer for 15-20 minutes or until water is absorbed and rice is tender.
3. Remove from the heat. Let it stand, covered, for 10 minutes.
4. Meanwhile, in small bowl, combine vinegar, sugar, and salt. Stir vigorously until sugar is dissolved.
5. Transfer rice to a large shallow bowl and drizzle with vinegar mixture. Use a wooden paddle or a spoon to stir the rice with a slicing motion to cool slightly. Cover with a damp cloth to keep moist.
6. Sprinkle toasted and black sesame seeds onto a plate and set aside.
7. Place sushi mat on a work surface, so mat rolls away from you and line with plastic wrap. Place 3/4 cup rice on plastic. With moistened fingers, press rice into an 8-inch square. Top with one nori sheet.
8. Arrange a small amount of poached krill, cucumber and avocado about 1-1/2 inch from bottom edge of nori sheet. Roll up rice mixture over the filling, using the bamboo mat to lift and compress the mixture while rolling. Remove plastic wrap as you roll.
9. Remove mat and roll sushi rolls in sesame seeds and cover with plastic wrap.
10. Repeat with remaining ingredients to make eight rolls. Cut each into eight pieces and serve with soy sauce, wasabi and ginger slices if desired.
---